Custom Kitchen Cabinets & Bathroom Cabinetry Experts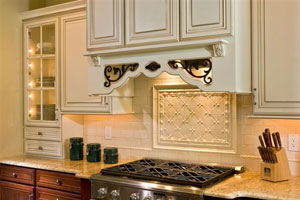 At Vintage Village Craftsman, we personally know that a kitchen is not only a functional work place for food preparation and storage.
It is a gathering place for family and friends to relax and enjoy festivities.
A place for organizing bills, incoming mail and your children's backpacks that are full of papers from school.
Today's kitchens often have computer work stations as well as the standard phone and calendar areas.
You may need a place for your children to do their homework while dinner is cooking.
You may want a place to feed your pets.
You may need wheelchair accessible accommodations; we have the ability to make this possible.

Beyond kitchens… Today's cabinetry lines make it possible to design and install those custom touches once found only in quality handmade furniture pieces.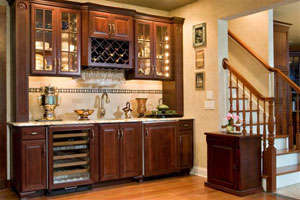 The possibilities are almost limitless.
Bathrooms and Master baths, with vanities and storage areas.
Laundry room cabinetry and work areas.
A Mud room.
Pantries. Wine Cellars.
The Office, Den, Library, and the Fireplace with the look of built-ins.
TV and entertainment storage to meet contemporary electronic needs.
Commercial and light industry such as medical and office work stations.