The "Old Paint" impression of a Jim Bishop Base Coat offers a dramatic departure from today's common stained finishes. Choose one of our eight colors as a foundation, then experiment with our other smart styles elements until you find the look that says, "This is me!"









For the look of the old familiar objects that have accumulated years of living - like your favorite jeans or your grandmother's cupboard. Specially- formulated glazes are hand-scumbled and wiped over each cabinet by Jim Bishop craftsman to produce a one of a kind effect. Glaze "Hangs Up" on the moulding, in recesses and in the corners. The result? Kitchen and bath cabinets that look not like they're brand new right out of the carton, but like they've been in the family forever, familiar and oh so comfortable to live with.





Made to look like wood with a past! Wood beaten and dented from years of use. Wood attacked and eaten by insects and worms, leaving holes in random patterns. This is the fine furniture look our craftsmen have achieved so beautifully and affordably with Smart Styles Physical Distress. Faces of doors and drawer fronts are randomly distressed. Some areas will be heavily distressed and others barely distressed. Choose a Jim Bishop Accent color to make your distressed cabinets look even more distressed!



Edge Wear mimics finishes worn from years and years of use - as you might find on furniture and cabinets from early 20th century English and French "country" collections. Our handcrafters randomly sand through the stain or basecoat, exposing raw wood on the edges of doors and drawer fronts. The effect is as stunningly beautiful as a newly discovered heirloom.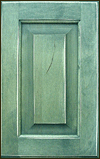 Your Mother or Grandmother may remember this fashion from the middle 1900s. Veiling creates the look of an inconsistent, gauzy, webbed coating - an effect you can actually feel in some instances. It adds a dimension of subtlety to darker colors, but dramatically changes the mood of lighter colors.


There's a recurring story in the world of antiques. An old, cracking paint reveals a surprisingly - handsome finish color underneath. Jim Bishop's crackle coat is antique white. Your choice of stain or base coat allows you to create a variety of striking finishes. The cracks themselves are an important ingredient in the overall effect. Some will be coarse, some fine - and in reality, transitions from coarse to fine will regularly occur, even on single pieces.



Talk about choice. Duotones allow you to use two different finish combinations on the same cabinet. Doors and Drawer fronts may be in one scheme, while cabinet boxes and accessories are finished in another. Use complementary colors to create intentional contrasts, or closely related (analogous) colors for harmony. With the Smart Style options we offer, you have an almost unlimited palette of high fashion combinations. See your Jim Bishop dealer and go for it!