Appalachian Hardwood Flooring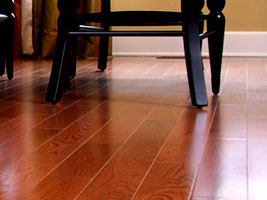 Appalachian Flooring offers you an exceptional selection of the hardwood species most sought after for their look and durability. Dealing in both domestic North American hardwoods as well as with imported exotic hardwood species from Brazil, we are sure to have a species that you will fall in love with.
Click here for the Appalachian Hardwood Flooring Website
Domestic Species
Yellow Birch

With its tight grain and cheerful light coloration, yellow birch is the ideal solution for people looking to give a room a little more vibrancy.
American Cherry

Very distinctive, American Cherry only improves with age. Its distinctive reddish-brown coloration will emerge with exposure to sunlight.
Hickory

Creamy white sapwood combines with brown and pinkish heartwood to make Hickory the most character-rich wood that we offer.
Hard Maple

Sought for its magnificent grain texture, light almost creamy colour and high hardness rating, Hard Maple is the ideal choice for long-lasting beauty.
Red Oak

Classic, time-tested and true. Red Oak is beloved for its distinctive grain and subtle colouring that matures beautifully with age.
Walnut

Walnut's strong light brown and purplish-black heartwood tones are highlighted by the lighter creamy streaks from the included sapwood.
Exotic Species
Cumaru

Ipe

Jatoba

Santos Mahogany

Tigerwood